Welcome to the world of delectable
yet healthy snacking options with a dash of innovation.
We invite you to explore, order and delve into our offerings of bite-sized wholesome goodies that are made from naturally sourced genuine ingredients, reminiscent of childhood memories and packed with nutrition.From imported California Almonds and Pistachios, to wild Cranberries and blueberries, prepared with natural sweeteners; we are looking to cater to you these pocket-size goodies, with a blast of energy and nutritional goodness.
Welcome for individual orders, bulk or corporate requirements.
Happy and healthy munching!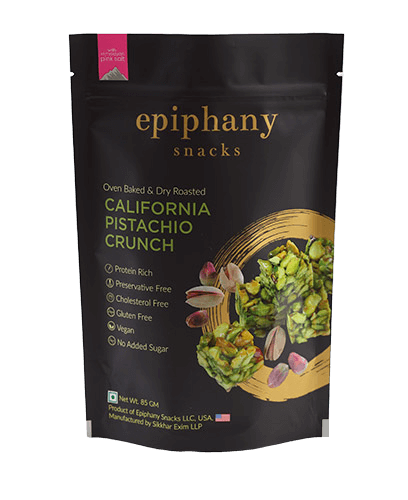 The crispy taste of the Pistachio gets taken over by the mildness of sweet brown rice syrup. An ideal snack on-the-go that fuels 17% protein with its every pack; the California Pistachio Crunch is a crunchy delight not to be missed. With its unconventional combination of freshly selected and peeled green pistachio nuts…
The single rich source of vitamins, minerals and proteins; Almonds are a nutrition rich, gluten-free power-house that is proven to maintain blood sugar levels, manage weight and boost energy in a jiffy. Now imagine this single source of multi-benefits being wrapped in the delicious subtly sweet and satisfying taste of pure Vanilla.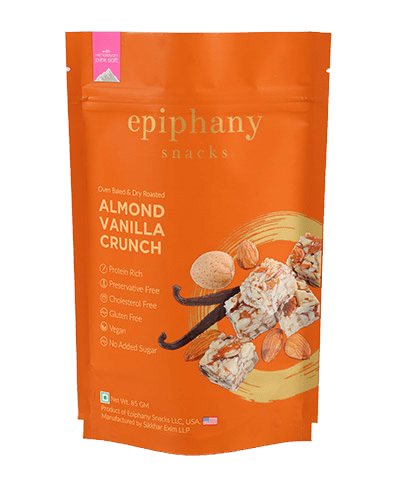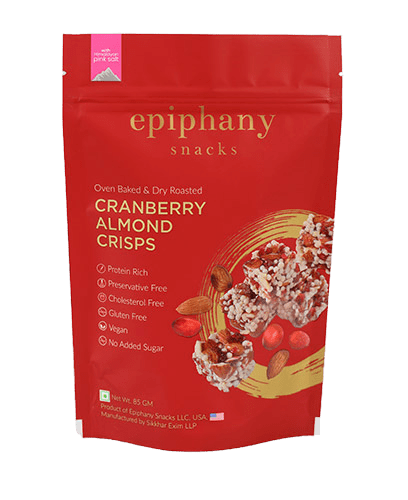 Have you craved for a fulfilling nibble, that is as healthy as uniquely flavoured it is?! If yes, we have the exact gem you have been looking for in the form of our 'Cranberry Almond Crisps'. These bites are packed with the refreshing fruity punch of Wild Cranberries that are handpicked and combined with the goodness of crunchy California Almonds and pure Himalyan Pink Salt.
A bite full of happiness and health; is what we like to call this little treat. The playful sweetness of blueberries gets complimented by Vitamin E rich California almonds, perfectly balanced in our Blueberry Almond Crisps. These energy boosters are light yet filling and offer a flush of deliciousness in your mouth and moment…
Save more when you buy more - VIEW OUR VALUE PACKS
Something is wrong.

Instagram token error.